With a Side of Blackberry Jam
Next stop on the Tour des Dyers... we head to the Missouri Ozarks, where Ashley of The Blackberry Ridge Fibers lives and dyes some of the richest, most beautiful yarns you'll ever wrap around your needles and hooks.
Last month, we celebrated the one-year yarniversary of the Harry Potter line at 6 and 7 Fiber with Rachel. This month, we celebrate not only The Blackberry Ridge's one-year yarniversary, but also Ashley's birthday! Happy Birthday! I'm so excited to have this opportunity; Ashley's yarns are such a gift that shares her life "on the ridge" with us. As a woman who lives in a concrete jungle, I crave the outdoors, especially the mountains. And when I knit up Ashley's yarn, it was like I got to breathe a little gust of the Ozarks.
But I'm getting ahead of myself! Let's start at the beginning.
Depending on how you look at it, we have her cat to thank for Ashley's beautiful yarns; after venturing into entrepreneurship with a shop selling ready-made crocheted items, she had to refocus her business after being bitten by her cat! You can't make this stuff up:
And in true maker fashion decided, "Hey! I can do this"! It wasn't long before I was standing over a dye pot thinking, "Well, at least I'll have plenty of pretty yarn." I really had no intentions of ever selling my yarns.
—Ashley
In speaking with Ashley, I noticed that she battles perfectionism hard, which I totally sympathize with. She's a fantastically talented woman, and I have a feeling that she can accomplish anything she sets her mind to, and sometimes, that involves letting the magic happen without trying to control it. Which is so hard!!! I'm so glad she pushed through the doubts to do it.
Yeah, I think "beautiful" sums it up, at least from my perspective:
I've never dyed yarn, but I'm fascinated with the creative process. Especially with yarns, I always want to know: how do you know? How does a dyer know that a colorway is just right?
I love this—it's another way of giving up control and letting the creative process happen. I can't tell you how much your words resonate with me, Ashley, and how I appreciate the example you set of trusting the process.
So I asked Ashley a bit about her life as an indie dyer, and about her signature colorway, Blackberry Jam. First off, what is The Blackberry Ridge?
I have this romantic image of life in the mountains, surrounded by brambles and chickens and sunshine. And while I'm sure there are days like that, we all know that real life is... well, real.
I can't put my finger on it, but Ashley's yarns evoke the Ozarks to me, though I've never been there. There's something rich, deep, and real about the colors. When I asked her about her inspiration, I wasn't a bit surprised that she finds it in the natural world and homestead around her: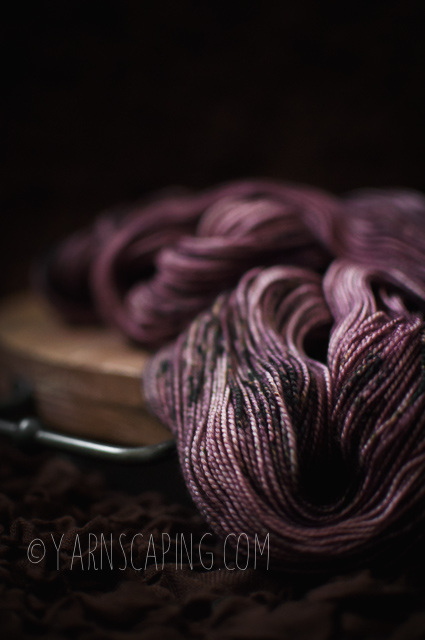 …deep and rich like a ripe blackberry, with emerald greens of the fields and the pops of darkness in the night glittered with lightning bug light…
—Ashley
Last fall, Ashley released her signature colorway, Blackberry Jam. Isn't there something elegant about having a signature colorway? I had been following The Blackberry Ridge on Instagram for months before I purchased this. I'd been tempted by so many of her colorways but when she announced that she was going to introduce a signature color, I made sure I was the first to buy it. No hesitation. I guess I was waiting for this one.
I'm not normally a fan of pinks and purples, but lately, purple is dominating my projects! Blackberry Jam is so warm, that it feels mature and sensual rather than girly-purple. I promise that the photos you see here and on The Blackberry Ridge site do it justice--it isn't a trick of the camera. This yarn is really and truly this rich in person. I love the undercurrent of darkness underneath the purple; the green speckles are a surprise every time and give the yarn a feeling of levity, of joy.
I think it must have been difficult to settle on a signature color. It has to say so much in one skein, to intertwine with the brand. In my opinion, it's a success.
Speaking of brand, have you seen Ashley's logo?
Another example of trusting the creative process, and being true to what speaks to you! I think the logo turned out unique and perfect. This is another theme that came up when I asked Ashley about her photography, which you really need to see. Her Instagram feed is so luscious you'll have to go on a diet just looking at it.
In the spirit of being confident in my own vision and taste, I did a turnaround on the project I chose for Blackberry Jam. My original plan for Tour des Dyers was to knit socks with yarn from each dyer I interviewed. In fact I'd already wound and split this yarn to make socks.
But just before I cast on, I spotted the Filigree Slouch by Woolly Wormhead and I knew instantly that this hat had to be knit with Blackberry Jam. The color and the texture were a match made in heaven.
I'm always a sucker for reverse stockinette for the way it presents variegations in yarns, and the traveling stitches give the hat an elegance that pairs perfectly with this sumptuous purple. It was a slow pattern to knit, but I was fine with that; I got to spend that time with this yarn.
The only problem is that I'm now behind on my Box o Sox 2019 Challenge! Oh well, I'll try to make it up!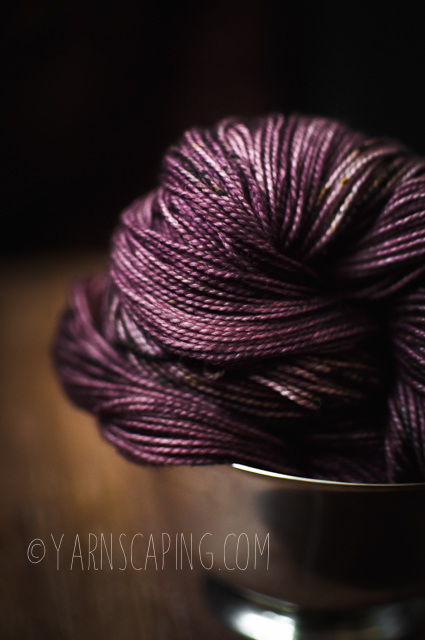 I hope anyone that holds a skein of my yarn feels the effort and thoughtfulness I put into creating it. But more than that I hope it creates a memory. I know it's just yarn, but the possibilities that it holds can transform it into heirlooms to be treasured for generations to come. To me, that's just so special to be a part of.
—Ashley
I know I've said this before, but I love the yarn community. Yarn people really are the best people. And when I buy from independent makers, I get so much joy from receiving products that came from the hands of people I can actually meet, online or in person.
The joy goes both ways. Unlike mass-produced companies, we have a tightly-knit (ha!) community, and dyers and designers get to see their hard work transformed in makers' hands as we post projects on Ravelry, add hashtags to our WIPs on Instagram, or wear our handknits to festivals. I asked Ashley what it's like to see her yarns "in the wild," as it were:
In the words of Stephanie Pearl-McPhee, who is probably the human on the earth more in love with knitting and knitters than anyone else (I would happily judge that contest:)
I do, too. I love the way we support one another--I've seen it in so many ways, like supporting a woman as she takes the plunge into entrepreneurship:
Speaking of community, I have a request:
If you're a knitter, would you consider trying out the Filigree Slouch or any of Woolly Wormhead's patterns? Her family is going through a tough residency situation right now and could use some support from our awesome community! Consider picking up a pattern or two (or gifting!) She has about a million hat patterns to choose from so you're sure to find something you like!